Shall I compare thee to a summer's day?
No, I-Robot meets Minority Report would be far more accurate. Surrogates is a sci-fi murder mystery starring one of my favorite action stars, Bruce "Yippee-ki-yay Motherfucker" Willis. From the very beginning of the film I knew this was a brilliant concept.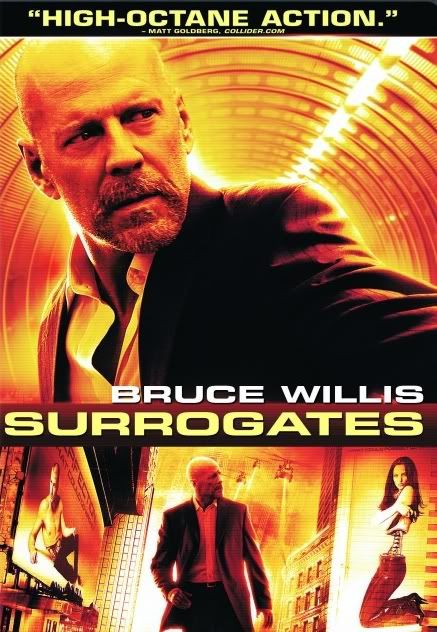 Let me give you the basic premise of this movie. In a futuristic version of modern day, people now live their lives through surrogate robots, essentially cyborg-like avatars that are customized to whatever specifications the operator wants. Originally designed to help the disabled, these machines are now commonplace in society, allowing anyone to live as they wish they had been born. The entire premise is an interesting look at the potential future of my generation. Surrogates will keep you engaged, inquisitive, and staring at the overly smooth faces of all the robot versions of the actors.
Like most high-budget movies, the acting in this is spectacular, though it doesn't hurt that my main man, Mr. "Does-he-look-like-a-bitch"
Ving Rhames
is in it. With the proper suspension of disbelief, this flick made this viewer (at least) question where we as a society will be progressing if we continue to hide behind virtual versions of ourselves. This allegorical reference to online communication also contains enough twists and turns in the plot to keep you on your toes.
The graphics may not be "eye-popping", but they are definitely remarkable, and you will probably find yourself staring at the inhumanly smooth characters that abound in this film. I kept wondering if Bruce Willis found it eerie, looking at a 30-years-younger version of himself, when he watched the pre-screening.
If you're a fan of Sci-Fi, or at least out-there murder mysteries, give Surrogates a shot. I give it 8 out of 10, but it's a high 8. I'll probably be picking this one up at some point.
_______________________________________________

_________